I've written a guide to
eating out at restaurants in Spain
, but what if you're new to Madrid or Spain and need to buy some groceries?
Main Grocery Stores in Madrid/Spain
Here are the main grocery stores in Madrid (also found throughout Spain):
Mercadona
Source: Wikipedia
Mercadona was by far my favorite grocery store in Madrid last year, so I'm listing it first. During my first year in Madrid I didn't live near one (they're aren't too many in the city), so I never went. This past year there was a Mercadona right next to my Tues/Weds school, so I went often. It's always clean and there's a great selection of items. This is where I'd buy hummus and gluten-free items (they have lots!). Highly recommended.
Dia
All three apartments in which I lived in Madrid were all about a block from a Dia supermarket. Dia has cheaper prices, so I'd go there more frequently for basics and every day purchases, like baguettes and rice. If you're living in Madrid, get a Dia card -- you get new coupons every month. Just ask about it at the check-out counter and they'll give you a slip to fill out with your name and address.
Carrefour
My favorite reusable bags (pictured below) came from Carrefour -- but I never shopped here regularly during my two years in Madrid. It just wasn't the closest grocery store to me, but I think the quality's great! [Update: While living in France from 2015-16 I shopped regularly at Carrefour and really love it.]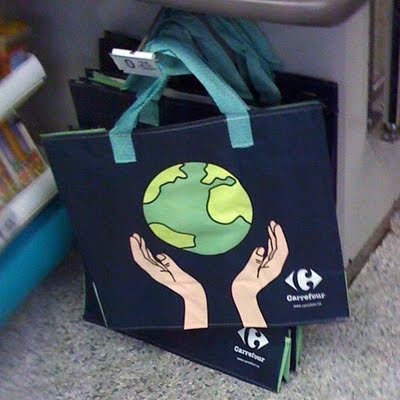 Carrefour reuseable bags, Spain
Source
OpenCor
I never shopped here regularly, since there's a much smaller selection and higher prices, but take note that OpenCor is
open
18 hours a day (until 3am), 365 days a year. I went here on New Year's Eve with my grandma and mother when they visited, since every other grocery store was closed for the holiday.
Alcampo
Alcampo is gigantic. It sells more than just groceries: clothes, books, musical instruments, electronics, school supplies, etc. So if you can't find something at a smaller grocery store, chances are high that you can find it in Alcampo. There aren't many in the city since they're so big; I can think of two Alcampos that I know of in Madrid. So if you go, prepare yourself for lots of people and a huge store. My Tues/Weds school last year was near an Alcampo (across the street from Mercaonda), so I'd go there a few times when I wanted a bigger/different selection.
Corte Inglés
Don't go grocery shopping here! Unless you have piles of money to use up, that is -- Corté Inglés is an expensive place to grocery shop. They do have a wider selection of health food / dietary restriction items though, so you might want to explore it just to know what's available.
Eroski + superSol
Two other grocery stores off the top of my head are Eroski and superSol. I don't have anything special to say about them - they're just more grocery stores you might happen to live by in Madrid.
Important Things to Know about Grocery Shopping in Spain
- Bring your own plastic or reusable bags.
You'll have to pay a few cents for each bag you need at most grocery stores.
- Don't touch the fruit!
If the fruit is self-serve, there will be plastic gloves readily available. In Spain you must be wearing a glove to touch the fruit. At other grocery stores someone works behind the fruit counter. Tell them what you want and they'll touch the fruit and weigh/bag it for you.
- Bring change and have patience in line.
Some grocery stores have a minimum amount you must purchase in order to pay with a debit/credit card (at Dia it's 14 euros). Most people still pay with cash and count out exact change, so be prepared.
Not all places (Dia, for example) are always able to break 20s and 50s. I'll never forget the first time I was waiting in line at a Dia, and the cashier asked everyone in line if they had a 5 or 10 euro bill. Someone from the line passed up a 5 so the cashier could make change for the current customer. This happened often enough there, but the first time I was really surprised.
- Milk and eggs will not be refrigerated.
Milk is prepared differently in Spain, so the boxes of milk don't need to be refrigerated until after you open it. I found this kind of nice, because you could stock up and buy six bricks at a time, then leave them in the cupboard. I put my eggs in the fridge after I bought them, but for whatever reason they're not refrigerated in the store.
- Peanut butter is not a Spanish staple.
You can find most food items from the USA in Spanish grocery stores, but not peanut butter! Try an herbolario -- that's where I bought my rice milk. Herbolarios also have vegetarian, low sugar, and other special diet foods.
- You can take single items from packs.
This mostly applies to beverages, and it's fantastic. You can take out a single can of soda from a six-pack's plastic rings, or open up the plastic from a package of 2-L water bottles to take however many you need. That's why you'll see open packs on the shelves. (You'll notice the price listed is per single unit.) I've also seen yogurt packs split apart to take however many singles you want—but not the kind with a cardboard case around the yogurts.
- Grocery stores are closed on Sundays.
This one took a while to get used to, since Sunday is the grocery shopping day in the states. Plan ahead and make sure on Saturday that you have what you need to get you through the weekend, otherwise you might be stopping at an OpenCor!
Did you find this post helpful?
Take a look around the rest of the blog, and feel free to email me if you have any other Spain questions! (rebeccarosethering [at] gmail [dot] com)
I share all of my Spain how-to posts on the blog and knowledge via emails for free! If you'd like to return the favor, consider tossing a little love in my tip jar:
Gracias!