When I studied abroad in Madrid, one of my biggest worries was the apartment hunting. We would be in dorms for two weeks, during which we'd have to find - on our own - an apartment to live in for the year.
How am I going to find an apartment in this big city that I've never been to before? And do it in Spanish?!
Well, I did it! I found a great, affordable apartment that I was happy in all year. And you can, too! Here are some tips and information to help you on your apartment hunting. Get excited, because you're going to find a great apartment and have an incredible time living in Madrid!
Piso vs. habitación
When looking for housing, you can either rent
una
habitación
(a bedroom) from people who already have the
piso
(apartment), or rent a whole
piso
with others.
I would recommend
not
renting your own apartment as a new expat, because the contract would most likely be for at least a year, and you would have many legal obligations by having the apartment under your name. Rather, I suggest renting a room from someone who has the apartment in their name; there are tons of these types of rooms for rent in the city, and it's what most expats (and many Spaniards!) do.
The
habitación
might be in an apartment of students, workers, and sometimes even families or widows will rent out an extra room in their flat to help pay the rent.
Neighborhoods of Madrid
If you're completely new to the city, first you need to familiarize yourself with Madrid and its many
barrios
(neighborhoods).
Start by taking a look at some of these links:
Madrid's Neighborhoods by spotahome.com (Interactive map, thanks Shaheen for sharing the link!)
,
Madrid's Districts (Ail Madrid)
,
Districts of Madrid (Wikipedia)
,
Municipalities, Districts, and Barrios (Madrid-Uno)
, and then hop on a bus and start exploring! (The bus "C" has a circular route through many barrios of Madrid -- so you won't get lost!)
My first apartment in Madrid
Two years ago I lived near the metro Ventas, in the
barrio
Salamanca and absolutely loved the area. Calle Alcalá is my favorite!
My apartment was an
exterior
, which means that it is on the outside of the apartment complex, so the windows look out onto the main street. An apartment can also be an
interior
, which means it's on the inside of the building, so any windows will look to an inner patio where the laundry lines usually are. Regardless of the type, make sure your room has a window!
It wasn't until after I had moved into my
piso
that I found out Salamanca is apparently the wealthy neighborhood of the city. I couldn't believe it, since I'm so frugal, but I had found a great rent price for where I was living (320 euros / month, all utilities/internet included).
Looking for apartment ads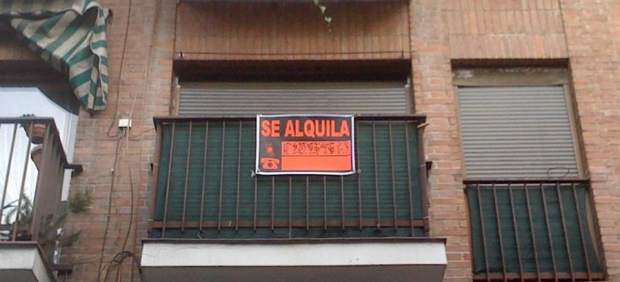 If you're out walking around while soaking in the different barrios, keep your eyes peeled for "se alquila" signs -- which are everywhere.
Many people put up signs with phone numbers when they're renting a room. Rip off a number and start collecting them!
Sometimes apartment doors themselves will have a "Se alquila" sign with a phone number posted up next to the building number, or up on a balcony. If you like the area, you can call the numbers while you're there to find out more information.
Websites with Madrid apartment listings
I would also suggest using the interwebs to enhance your search. Here are some websites that you may find useful while looking for housing:
Segunda Mano
- You can browse by district.
Idealista
- You can browse by district.
Easy Piso
- This one lets you make a profile, where you write what kind of apartment you're looking for, tell a little bit about yourself, and upload a picture. It's actually nice though, because you can be sent e-mail notifications when new apartments are posted that are in your price range/location of choice. Also, people renting rooms can contact the room-searchers they want to live with, so you will probably have a better chance of finding roommies you'll get along with.
Loquo
- Unfortunately not organized by district, but you might find something on here that's not on the other sites, so I still used it.
Campus Anuncios
- Select "habitación en alquiler" and you can set your maximum/minimum monthly price. Don't forget to select Madrid as your location!
Making your first phone call
The next step is to
call
places you're interested in to get more information. You will be amazed at how little some people write in their posts. Don't send e-mails -- the people who call will beat you to it and get to look at the
piso
before you ever receive a response via e-mail.
If it's your first time doing this, here's a tip to make the calling easier: Find a
piso
you absolutely hate. Somewhere you would never want to live. Then call the number associated with that
anuncio
and ask them a bunch of questions about the place. This way you get pressure-free practice, because you don't want the apartment anyway. After each call you make, it will get easier and easier. And to ease the nerves even more, here are some questions from my WIP Madrid 2009-10 handbook that you may want to ask over the phone:
La habitación y el piso:
1. ¿Es individual o doble? (Is the room a single or a double?)
2. ¿Cuánto vale? (How much is the monthly rent?)
3. ¿El precio incluye los gastos? (Are the utilities included in the price?) ¿Cuales? (Which ones?)
4. ¿Hay calefacción? ¿De qué tipo? ¿Es central o individual? (Is there heat? What kind? Is it central heating or individual)
If it's individual, ask ¿de gas o eléctrica?
5. ¿Hay fianza? ¿Cuánto? (Is there a deposit required? How much?)
6. ¿Hay contrato? ¿Por cuántos meses? (Is there a contract? How long is it valid?)
El sitio:
7. ¿Dónde está? ¿En qué metro? ¿Cómo se escribe el nombre de la calle? (Where is the apartment? What metro stop is it? How do you spell the street name?)
8. ¿Hay teléfono fijo? ¿Para llamar o sólo recibir llamadas? (Is there a telephone? Can you make calls or only receive them?)
9. ¿Hay lavadora? (Is there a washing machine?)
10. ¿Soy de los EE.UU., hay más norteamericanos en el piso? ¿Hay más extranjeros en el piso? (I'm from the United States, are there other North Americans in the apartment? Are there other foreigners in the apartment?)
Things I would be sure to ask ahead of time if you're looking to live with Spanish speakers, which is highly recommended to improve your language skills.
11. ¿Hay más habitaciones libres? (Are there more open rooms?)
12. ¿Cuántos personas viven en la casa? ¿Estudian o trabajan? (How many people live in the apartment? Do they study or work?)
Find out as much as you can on the phone before you decide to so visit a place. Seeing an apartment does take a decent amount of your search time, so only go see the places you're really interested in, that meet your top qualifications. This means make sure you've asked about all of your questions or concerns before you go see a place, so you don't arrive and find out there's no window, for example.
Don't be afraid to ask the person to repeat or talk slower:
Por favor, ¿Ud. puede repetir lo que dijo más despacio?
If you want them to spell you a street name or other information, ask
¿Cómo se escribe?
I would write all your notes from piso-hunting in a notebook. It gets quite confusing with all of the different ads -- some you'll find on multiple websites, others you'll see only once, and some will get re-posted every couple of days. To keep track of which places you've already called, which were already rented, etc., write it all in a notebook.
Questions to ask when seeing an apartment
Finally, from the same handbook, here are some questions to ask when you're seeing a
piso:
13. ¿Cómo se pagan el alquiler y los gastos? (How are the monthly rent and utilities collected?)
14. ¿Puedo cocinar? ¿La cocina es eléctrica, de gas butano o de gas natural? (Can I cook here? Is the kitchen electric, butane gas or natural gas?)
15. ¿La cocina tiene todos los utensilios (platos, vasos, cubiertos, etc.)? (Does the kitchen have all the utensils (plates, glasses, pots, etc)
16. ¿Hay ropa de cama (sábana, mantas)? (Is bedding provided -- sheets and blankets?)
17. ¿Si hay alguna averia, ¿A quién hay que llamar? (If there is some problem with installation or something inside the apartment, who do we call?)
18. ¿Cómo funcionan los aparatos eléctricos? ¿Hay que tener cuidado especial con alguno de ellos, o con la instalación eléctrica de la casa? (How do the electronic devices work? Should special care be used with any of them?)
And remember to go with your gut! This is where you'll be living
every day
, so you want to feel comfortable and have an honest/helpful landlord. If something doesn't feel right about the apartment, keep looking! You'll find a great fit!
Buena suerte!