I love thrift stores. When in the states, I do my clothes shopping at St. Vincent De Paul's and Goodwill. So the first time I moved to Madrid, I was worried that I would have to buy new, expensive clothes - or none at all during the year.
Then a friend told me about
Humana
, a used clothing store in Madrid. Hurray!
Humana is an NGO with projects in sub-Saharan Africa, South America, and Asia. Humana collects and sells used clothing in order to fund its projects. There are multiple Humana shops in Madrid (and elsewhere in Spain!), and numerous donation bins all around the city.
The first time I went to Humana, it was 4 euro day
; every item in the store cost only 4 euros, just for that day. I was amazed! (And shopped!). Jeans, sweaters, coats: 4 euros.
Imagine my surprise that a few days later I happened upon 3 euro day at another Humana. Amazing!
(Note: If anyone is still looking for a halloween costume this week, Humana is the perfect place to shop!)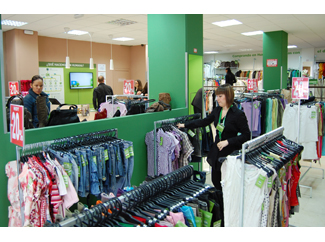 Source: www.humana-spain.org
And at the end of both years, while packing my suitcases to return to the states, I always had a huge bag of things I donated to Humana. You can donate clothes directly at the store, or put it in any of the donation containers around the city.
There are 5,000 Humana donation bins in Spain
, and that link will help you find the closest container to you!
Humana donation container
Image from: humana-spain.org
There are currently 12 Humana shops in Madrid
, so visit as many as you'd like! (There are 2 in Sevilla, 2 in Granada, and 12 in Barcelona).