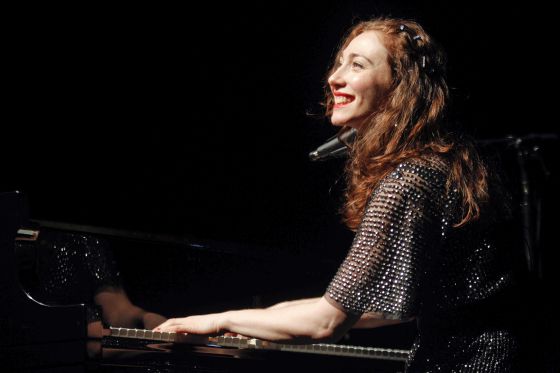 Regina Spektor performing in Circo Price (Madrid, July 2012)
Photo by Álvaro García (El País)
On Monday night I saw
Regina Spektor
live at the
Teatro Circo Price
here in Madrid. Regina has been my favorite singer for years, but I've never been to one of her shows. When I found out the other week that she'd be playing in Madrid, there was no way I could miss it.
Teatro Circo Price in Madrid
Photo by Joy de la Fuente
Since I'm a fan of sitting, I had bought a ticket for a seat in the front row on the back left side of the circle (directly behind the sound/lights tech guys seen in the mid-left side of the above picture). It was a good seat; I was close to the middle so I had a solid side view. Others on the front half of the circle either had a view of her face or her back, so I was pleased. Though at a future concert I admit it would be awesome to be in front of the standing section.
Her opener was
Only Son
, which is the music of Jack Dishel. Jack was (is?) the lead guitarist for the Moldy Peaches. He tried using a little bit of Spanish with the crowd, telling us "Mi banda es* en Nueva York. Mi nueva banda es mi iPod." (My band is in New York. My new band is my iPod.), before pressing play.
After his set there was a brief break before Regina finally came out. She was wearing a glimmering silver dress with black leggings. She walked out to the front of the stage, said "Hola" into the microphone, then immediately began singing "Ain't no Cover" a cappella. It was the only song all night that I didn't recognize, but it was very jazzy and captivating. It's from her EP Live at Bull Moose in 2005.
Regina Spektor in Madrid, July 2012
Photo by Joy de la Fuente


The rest of her set list was as follows:
2. Calculation
3. On the Radio
4. Small Town Moon
5. Ode to Divorce
6. Blue Lips
7. Patron Saint
8. How
9. All the Rowboats
10. Eet
Then Only Son (aka Jack) came back out and they sang "
Call Them Brothers
" together, a bonus track on Regina's new album
What We Saw From The Cheap Seats
. This song is one of the many from her new album that I can't stop listening to.
Regina Spektor and Jack Dishel in Madrid, July 2012
"Call Them Brothers"
Photo by Joy de la Fuente
12. The Prayer
13. Dance Anthem of the 80s
It was about this point that I overheard (well, saw) the two people next to me pointing out that the sound/tech guys in front of us had a set list. If you looked down and really concentrated you could read it, but I didn't want to spoil the surprise for myself. Even though I had been writing my own list as she played each song, I thought about asking the sound people afterwards if I could have the list.
14. Better
15. Ne me quitte pas
16. Oh Marcello
17. Ballad of a Politician
18. Sailor Song
19. The Party
Photo by Joy de la Fuente
Encore:
Us
Fidelity
Hotel Song
Sampson
Before I could even stand up after the lights came on, there was already a swarm of people around the tech guys asking them for the set list. Guess I wasn't the only one.
Regina Spektor in Madrid, July 2012
Photo by Joy de la Fuente
Regina was amazing live; not a single note out of tune. She sang as strong and passionately as always. She admitted that the only Spanish she knew was "gracias" (which she repeated after every applause -- sometimes it was "muchas muchas gracias") and "tortilla de atún" -- a type of Spanish food.
She said between songs that the last time she was in Spain it was just for 8 hours so it didn't really count. She had had some time during the day on Monday to visit the Prado art museum, the royal palace, and the San Miguel market; all of which she enjoyed. When she told us this, my first thought was why hadn't I gone Regina hunting down in the city center that day? Darn!
I also didn't think to wait after the concert until she left the theater. Those that did waited about two hours, but did get to see her on her way out. Instead, I went home after the concert and kept listening to
What We Saw From The Cheap Seats
(which I've listened to repeatedly every day since I bought the album last month). I also found some concert reviews already written on
El País
,
Público.es
, and
María José Morr
. Those articles are all in Spanish, but if anyone wants to take a look the links are there.
It was in these articles where I learned that Jack Dishel (Only Son) is Regina Spektor's husband! Yes, they got married in 2011. How this event and fact escaped my radar I have no idea, though Regina's pretty good about keeping her interviews focused on the music. I had been wondering how she picked Only Son to open for her on the tour. I guess he's also from Russia, and his family moved to New York when he was three (Regina's family immigrated to New York from Russia when she was nine and a half).
It was a wonderful, wonderful concert, and I'm sure it won't be the only time I see her perform live.

*Should have been está.