A few weeks ago I saw on a LinkedIn group that some UW-Madison alumni would be blogging every day for a week about their lives as English teachers in South Korea. It was called "Badger Blogging Blitz." This week I'm doing the same, but blogging about my days as an auxiliar de conversación in Madrid.
Well, if you read
Day 4
, you know where I am right now: In a car on my way to Calafell for an ultimate frisbee beach tournament this weekend.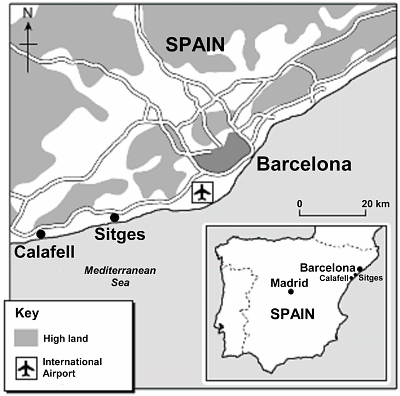 Map taken from geographyfieldwork.com
Some of you may be asking yourselves, "Why Rebecca, do you have the day off? Or is this just another one of those Spanish holidays you seem to have every week?"
Neither. In my program we never work on Fridays, which is utterly awesome. The reason for this is that in addition to teaching your language and culture in Spain, Spain also wants you to learn about its culture and spread that knowledge to your homeland when you return. The best way to learn about a country is to travel within it. The easiest way to travel is to have a 3-day weekend. Every weekend. Woo!
Hah, Hannah and I were actually just talking last night about how we'll never be able to go back to "real" jobs: the 40+ hour workweeks, the 2-day weekends... : )
Since you'll see my day's summary when I post about the tournament next week, I'll head right to Day 5's questions:
Questions - Day 5
1. If you had to teach in another country, where would you like to go?
I would teach in France, in order to learn French. Thailand and Taiwan are also popping into the head, though I've heard the latter pays much better than the former.
2. What was your most memorable lost-in-translation moment?
Hmmm. This isn't me, but it was funny and happened on Wednesday night. There's this new guy Chris, from Michigan, who arrived in Madrid last week and started coming to frisbee practice. At the bar on Wednesday night after semifinals, he wanted a beer with lemon (very common here, they mix lemon Fanta with beer). What he wanted is called
cerveza con limón
. When the waiter came by, Chris ordered "
cerveza con leche
" (beer with milk). He caught himself right away, but we all had a good laugh.
Most of my lost-in-translation moments happened when I first arrived three years ago, as a junior in college. Ah, like
this one - when I was trying to buy a water bottle and an umbrella
and the shop owner got really confused because of my Spanish.
Well that's it for now. Have a great weekend everyone!
Calafell
Image taken from ownersdirect.co.uk